While you may think of stunning fjords, Viking history, and trendy cafes when imagining a visit to Oslo, there's one activity you shouldn't overlook: the Nordic tradition of saunas.
So, grab your towel, get ready to sweat, and let's dive into why saunas are a must-try when visiting Oslo.
Embrace Norwegian tradition
Saunas have been an integral part of Scandinavian culture for centuries, and Oslo boasts a rich sauna tradition that has stood the test of time.
Norwegians consider saunas to be a vital part of their wellness routine, and joining them in this relaxing ritual is a beautiful way to immerse yourself in local customs.
Chill & get healthier
After a day of sightseeing, hiking, or exploring the city's museums, a sauna session provides the perfect opportunity to unwind and recharge your batteries.
Saunas are also known to stimulate the release of endorphins, which elevate mood and reduce stress. Additionally, spending time in a sauna can have a positive impact on respiratory health, detoxification, and even improve cardiovascular function. So, not only will you feel good after a sauna session in Oslo, but your body will thank you too!
Connect with locals
Saunas in Oslo are also an opportunity to socialize and connect with locals and fellow travelers. Norwegians see saunas as a space for meeting new people, sharing stories, and engaging in meaningful conversations.
So, don't be shy—start a conversation, make new friends, and create lasting memories in the sauna.
Where to do sauna in Oslo?
Oslo offers a diverse range of saunas to suit all preferences. If you're looking for an authentic experience, head to the Badstuforening saunas in Langkaia or Sukkerbiten, which combine traditional Norwegian saunas with a breathtaking waterfront location.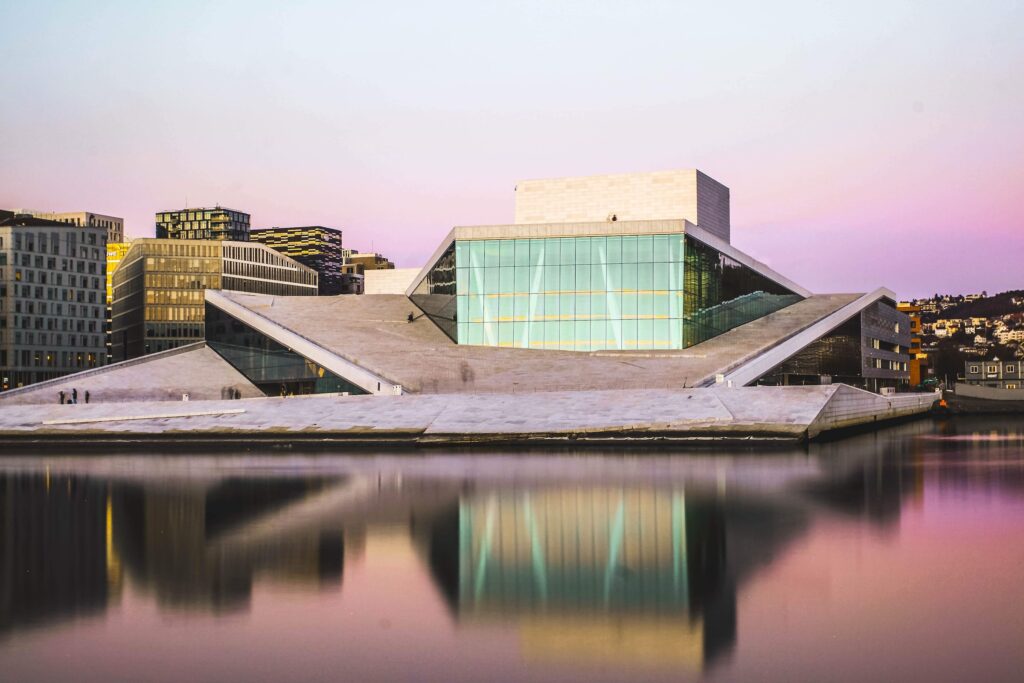 Oslo Badstuforening
Oslo Badstuforening is an association formed in 2016, with the aim of providing access to saunas for the people. Its vision is to make saunas available to the entire city, promoting its social and health benefits.
The association operates on a non-profit basis, with any profits reinvested to develop its offerings further. Membership is open to anyone, with an annual fee of NOK 300. Members have the right to vote at the annual meeting and access the association's facilities at a discounted price. Additionally, they can participate in community activities and charity work.
Oslo Badstuforening has a dedicated team of 37 employees, including 20 full-time sauna masters who have undergone lifesaving courses. The association prioritizes providing good working conditions for its employees, and a safe and enjoyable experience for members.
Oslo Badstuforening has exciting plans ahead. It is dedicated to continuously improving its facilities and services, with the goal of making saunas more accessible and appealing to a wider audience. By reinvesting profits into the development of its offerings, it is committed to enhancing the overall sauna experience.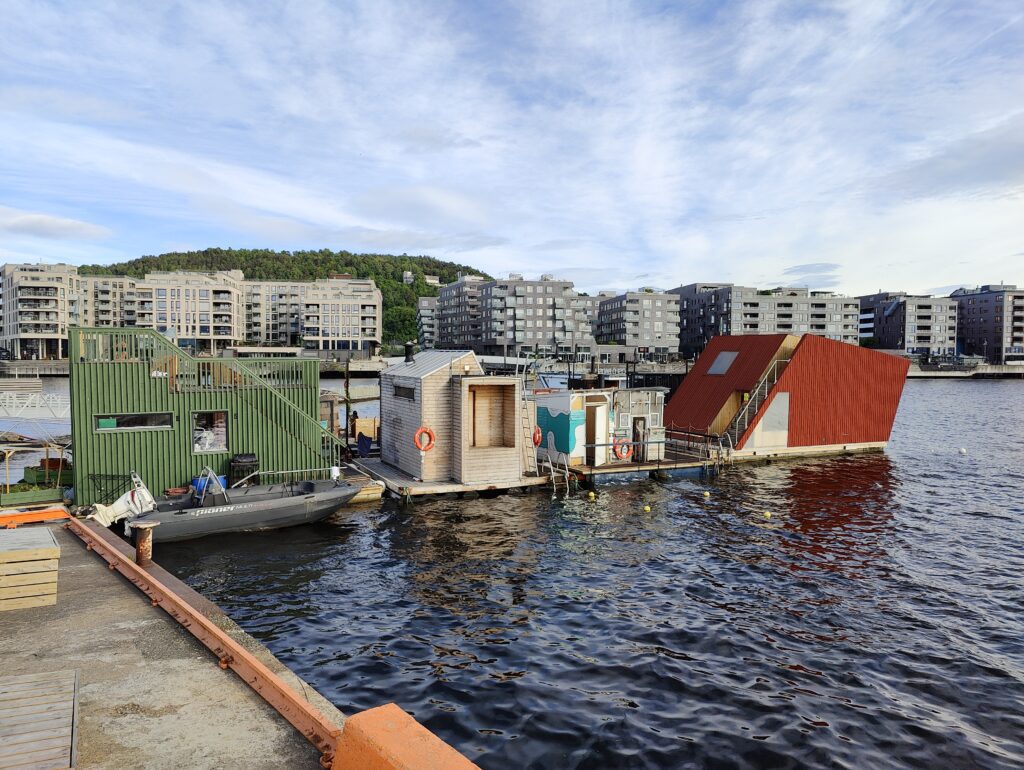 Badstuforening in Sukkerbiten
The sauna village: one of the highlights of Oslo.
If you can only visit one sauna, come here. This is the epitome of sauna culture, an ode to the beauty of sweating.
The Oslo sauna village offers a few different saunas, each with a different flavor and experience.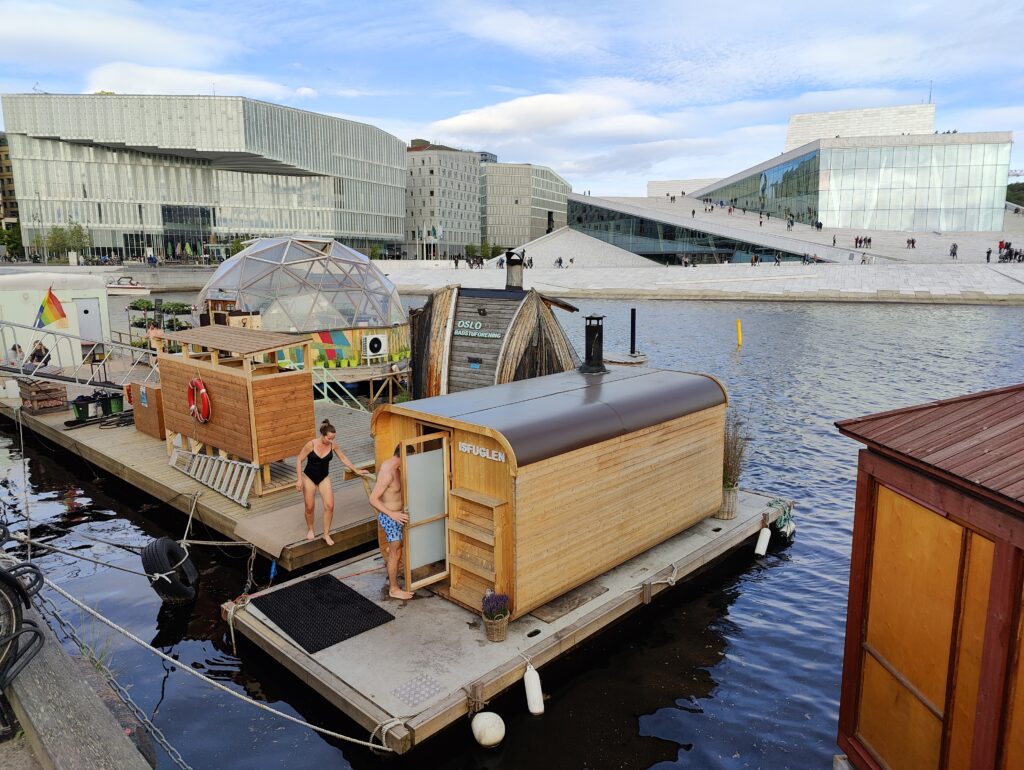 Badstuforening in Langkaia
Just in front of the Opera building, the Badstuforening saunas in Langkaia are really cool and offer unparalleled views over one of the most iconic buildings in Europe.
There are two sections, the pre-made sauna section, and the custom saunas with combined capacity of more than 50 people.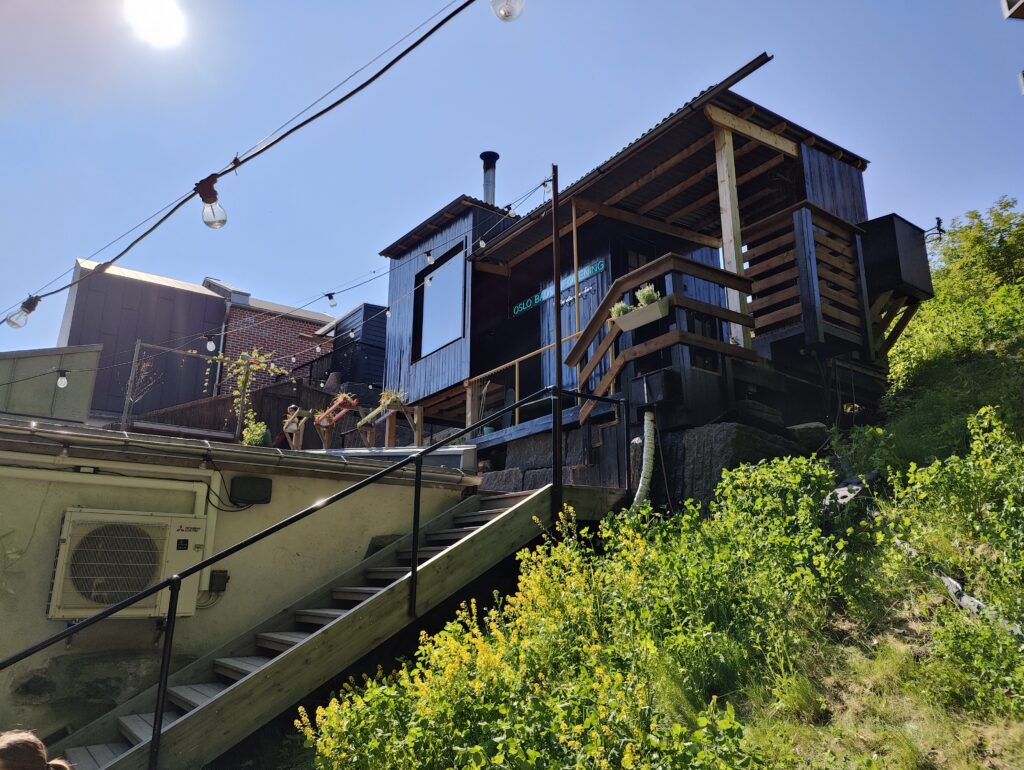 Badstuforening in Kroloftet
Slightly removed from the city center, this sauna complex is next to a quiet stream. Currently, there are two areas, the main sauna, and the provisional yurt sauna.
Mad Goats
Mad Goats is another organization (for profit) that has a number of saunas in the city center. Slightly more expensive than Oslo Badstuforening.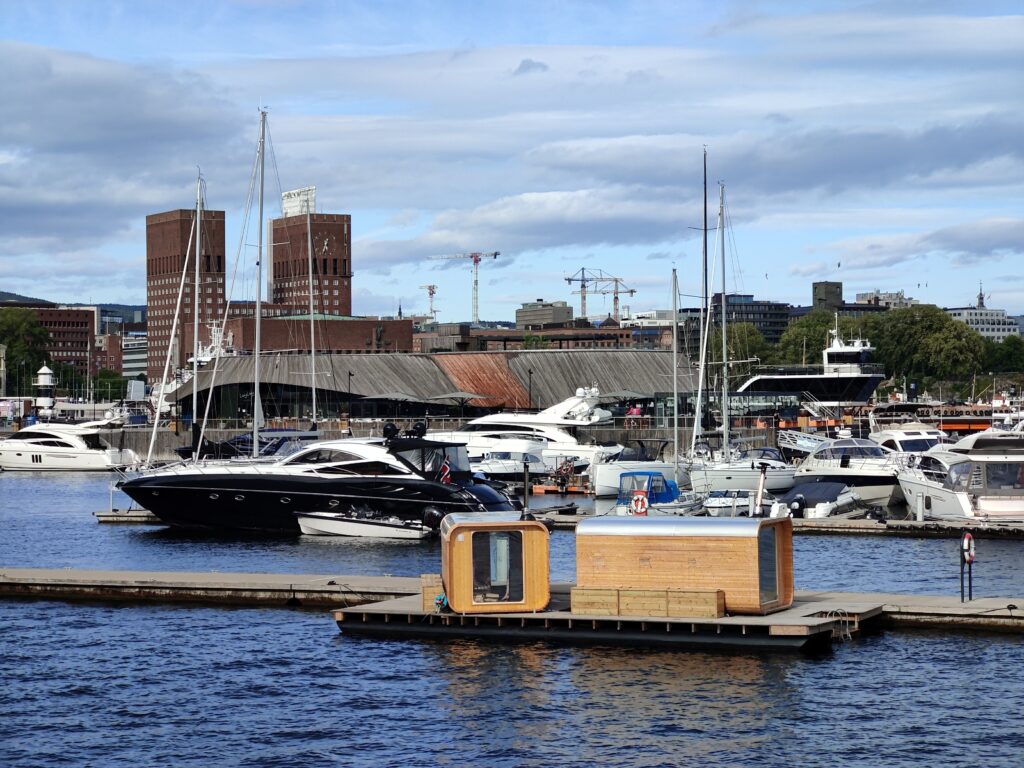 Mad Goags in Aker Brygge
At the end of the Aker Bryge 'peninsula', you'll find the quite pleasantly designed saunas by Mad Goats.
KOK
KOK Norway is a company founded in 2017 that offers a unique sauna experience aimed at bringing joy and happiness to people.
Inspired by a trip to Stockholm's archipelago, founder Kristin Lorange decided to introduce the concept of floating saunas to Oslo. Despite initial skepticism, KOK Oslo now operates nine saunas in the city and has plans to expand to other major cities in Norway.
The company's vision is to create a nationwide network of independent owners who can bring the KOK concept to their hometowns, offering city dwellers year-round access to enjoyable outdoor experiences.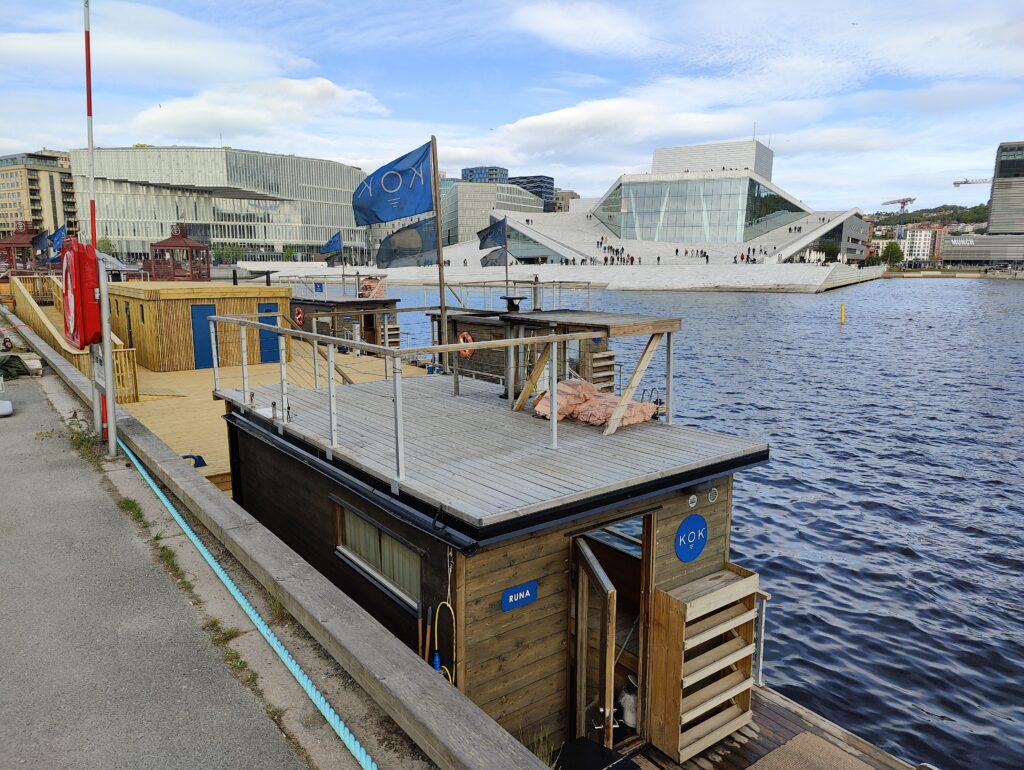 Kok in Langkaia
Next to the Badstuforening Langkaia, Kok also offers excellent sauna experiences.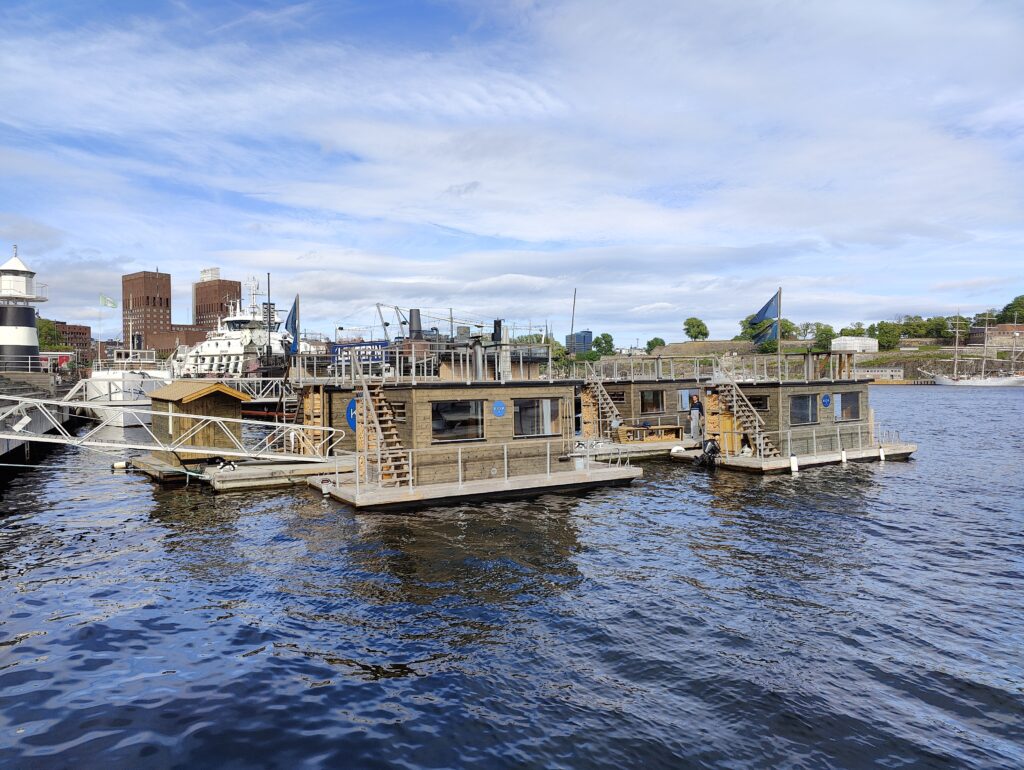 Kok in Aker Brygge
Kok also offers 2 to 4 saunas in the Aker Brygge area, as well as in Moss (outside of Oslo).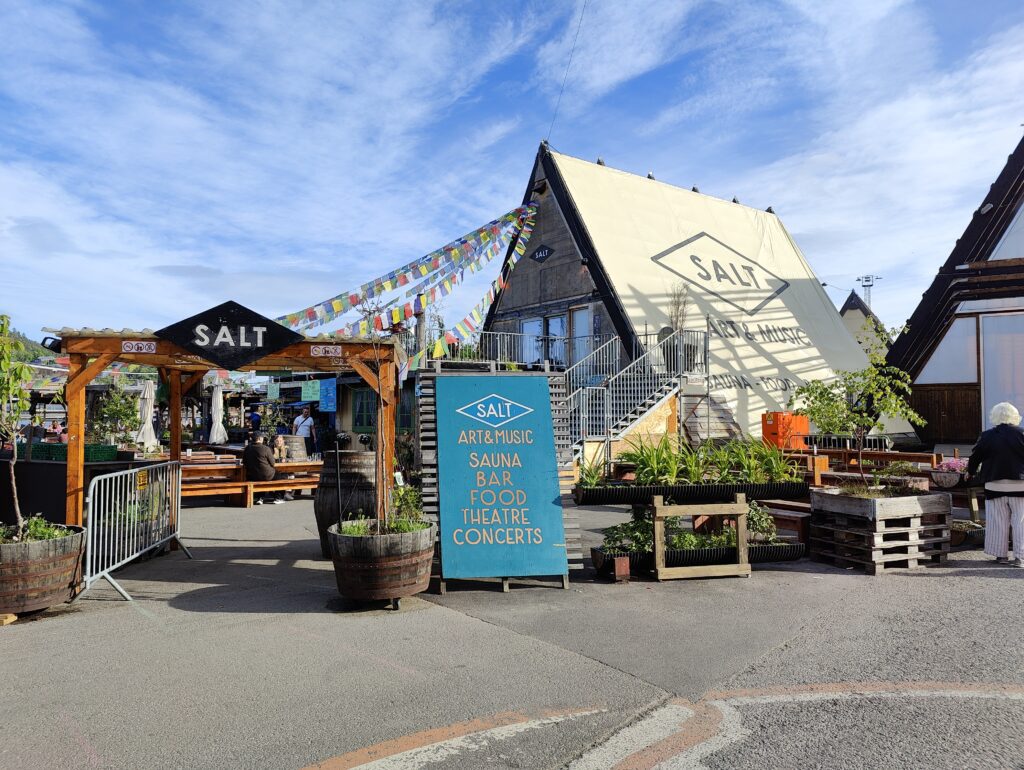 SALT
One of the largest saunas in the Nordics, and the only one where you can buy drinks.
Conclusion
When visiting Oslo, don't miss the chance to embrace the sauna culture and immerse yourself in this ancient Scandinavian tradition.
From relaxation and health benefits to cultural immersion and social connections, saunas in Oslo provide a delightful and meaningful experience for travelers.
So, take a break from your hectic itinerary, let the heat cleanse your body and mind, and create unforgettable memories as you sweat it out in Oslo's inviting saunas. Your journey to the heart of Norwegian wellness starts right here, right now!
Related: